El Portal Drive and Indio Drive Pismo Beach Ca
Directions:  Pismo Beach Hwy 101, exit Avila Beach head South, your first street to the West will be El Portal. It backs to the hillside that helps homes on the North side offer fantastic ocean views.  When you drive down the street you will see the street was designed to have parking. Going about a mile near the end you will notice Indio Drive to the left. If you drove past Indio you would be at the entrance of The Bluffs at San Luis Bay. Indo Road does dead end near the corner of Sea Ridge Court as it runs into South Palisades Park.
Google View of El Portal and Indo Drive

What Makes El Portal Drive and Indio Drive Pismo Beach so unique? Outside of the Bluffs, El Portal is the furthest North you can go In Shell Beach. The homes in this area always seem to be upgraded over the years. In this street you have great proximity to the Shell Beach trail at the Bluffs, which is what I must say, is an excellent walking trail. The area features quick freeway access to Highway 101 to go to San Luis Obispo, Downtown Pismo Beach, or the Pismo Beach Outlets for some shopping. Indio Drive is one of the most popular streets for homes that front the Pacific Ocean. You will find some of these homes have custom walkways down to the beach and sea walls. If you want to have your home open to the ocean look no further. If you are looking for ocean front property this is the premier spot in Pismo Beach. Now if you are looking for a home with a strong coastal influence and a glimpse of ocean views this street features some very nice homes just across the street.

If you are not from the area the Sunset Palisades area is sandwiched between El Portal Drive and Indio Drive Pismo Beach.
Search Pismo Beach Ocean Front Properties at http://35.167.6.250. If you would like your own custom portal search with the active, contingent, pending and sold comparable homes please email me:   [email protected] Subject Ocean Front Properties. If you would like to have all the latest MLS Listings sent to your Inbox please just let me know.
Local Streets:
El Portal Road    Pismo Beach, Ca 93449
Bonita Street     Pismo Beach, Ca 93449
Indio Drive          Pismo Beach, Ca 93449
Miramar Ave      Pismo Beach, Ca 93449
Encanto Ave      Pismo Beach, Ca 93449
Topaz Street      Pismo Beach, Ca 93449
Florin Street       Pismo Beach, Ca 93449
Recent Shell Beach Real Estate Market Activity

Two homes are currently listed on El Portal for sale. Please visit search Shell Beach homes for sale.
Sold El Portal and Indo homes for 2015
101 Indio Pismo Beach Ca 93449 3 Bedrooms 2 Baths (2 0 0 0) 2636 Sq. Ft 0.3671 Lot Size 1955 Year Built Sold for $3,299,000 on 06/12/15
302 Indio Pismo Beach Ca 93449 2 Bedrooms 3 Baths (0 2 1 0) 2038 Sq. Ft 0.1722 Lot Size 1976 Year Built Sold For $1,639,500 on 05/06/15
220 Indio Pismo Beach Ca 93449 3 Bedrooms 3 Baths (2 0 1 0) 3300 Sq. Ft 0.1722 Lot size 2014 Year Built Sold for $2,329,000 on 01/09/15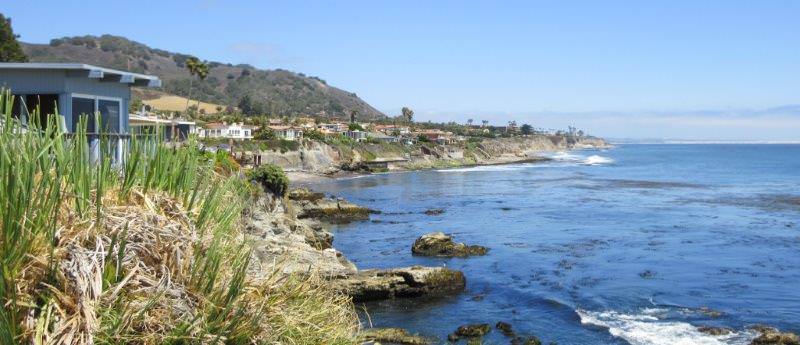 Other Local Popular Streets Include Searidge Court, Beachcomber Drive, North Silver Shoals Drive, and Ebb Tide Lane,
Other Local Subdivisions: Green Dolphin Townhomes, Sunset Palisades, Sea Ridge, Emerald Pointe, Playa Del Sol, The Villas at Rancho Pacifica, Spyglass Ridge, and Rancho Pacifica
Search Pismo Beach, Ca Central Coast Homes for sale
If you are looking to sell your home and need to find out what your homes worth please go to www.FreeHouseQuotes.com complete the form and I will complete your home valuation request. When you request a Free Home Quote I will complete a Sellers Net sheet to help give you all the information about the fees associated with selling your property.  To help create a more accurate sellers net sheet I may have additional questions to be as accurate as possible. It's not just experience but the attention to detail that helps keep real estate transactions smooth.
#IndoDrive #PismoBeach #PismoBeachCa # PismoBeachRealEstate #OceanFront #OceanFrontHomes #93449 #ShellBeach #ELPortalDrive #JoAnnOutland #Realtor
My Social Sites: Google+  Facebook Outland and Associates  Linked In

Author by James Outland Jr
---
---