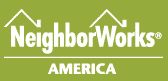 Who they are neighbor Works America?
"We collaborate with a variety of private and government partners to raise awareness about loan-modification scams, help homeowners avoid or mitigate foreclosure through a network of HUD-certified counselors, and work to revitalize distressed communities using a holistic approach." 
Web Page: https://neighborworks.org/homes-finances/foreclosure
Foreclosure Tips and Help: 1-888-995-HOPE (4673)
Call your mortgage company directly and beware of loan modification scams.
10 Important Tips to Avoid Foreclosure by NeighborWorks America
How to Avoid Foreclosure and Protect Home Equity
NeighborWorks American Contact page: https://neighborworks.org/Contact-Us
Take a moment to educate yourself to the many different resources Neighbor Works America by visiting that site for the latest updates. If you are on the California Central Coast and have questions Real Estate questions please feel free to let me know or if my site helped you find the resource you were looking for.
Sincerely,
James Outland
James@Outlandinc.com
Outland And Associates Real Esate
DRE#01314390